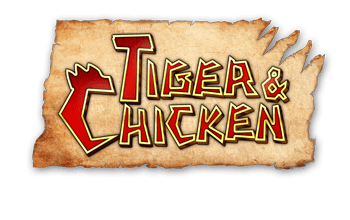 Moorhuhn: Tiger & Chicken – The Crazy Chicken first saw the light of day 14 years ago, and has been on lots of adventures since then. Now it's back to face its biggest challenge yet! In Crazy Chicken: Tiger & Chicken, you play the hero in a fast-paced story filled with terrifying enemies and dramatic combat.
Experience an Action RPG for the whole family: Even kids can get their friendly portion action out of Tiger & Chicken
Fight with a variety of weapons and chose the ones you like best
Use the sophisticated skill system to improve your chicken and become the strongest chicken ever
Games for kids must not be ugly: Tiger & Chicken comes around with a state of the art tech and looks just beautiful
Dislike Keybord and mouse controls? That's not a big deal, just use controllers to control your chicken
In Tiger & Chicken the player gets thrown into an fantastic medieval comic-asia. The focus in the game isn't on historical correctnes but on pure fun with the use of cliches from pictures and movies and comics to create a believeable world for everyone.
It is focused on the main hero, the infamous chicken. This time it travels through time to experience various thrilling adventures. As an example, the second chapter plays within a Shaolin temple which is high above the skies. From there the journey leads the player down into the magic forest where new adventures are waiting for him.
Tiger & Chicken is, compared to other games in the Moorhuhn series, way darker, way more detailed and has a lot more content than usual. The game makes use of our high end inhouse engine and comes along with dynamical lightning and a dynamic shadow system. It offers a complete wind simulation and destructable objects, normal maps and specular textures.
Of course we made sure that the easyness Moorhuhn is known for, is still available in Tiger & Chicken. But not only that: We did make sure that the humor the franchise is known for, is also included.